About the Park
As a representative industrial park affiliated to MGS Group, Nanshan Medical Device Industrial Park provided the settled enterprises with diversified green channel services, including CRO\CDMO services in the industry of medical devices, investment/financing-based financial services, marketing diagnosis and marketing services, industrial information and resources docking services, IP and policy declaration services, HR, finance/taxation and legal advisory services, etc.
With its professional and superior services and outstanding industrial achievements, the Park has been approved as Shenzhen Characteristic Industrial Park for 9 consecutive years, with an annual output value of more than 7 billion Yuan; in 2012, the Park was designated by MOFCOM as "National Demonstration Base for Foreign Trade Transformation and Upgrading of Medical Devices"; in 2016, the Park was awarded by Shenzhen Municipal Government as "Shenzhen Characteristic Industrial Upgrading Demonstration Park". Shenzhen Institute of Advanced Technology (SIAT) of Chinese Academy of Sciences is the first customer settled in the Park. Industrial leaders, such as EDAN Instruments and Gongjin Electronics, have been listed after incubation in the Park. New biomedical unicorns in biomedical industry, such as Relia Biotechnologies, XpectVision Technology, Synceres Biotech and SISDC are growing rapidly in the Park.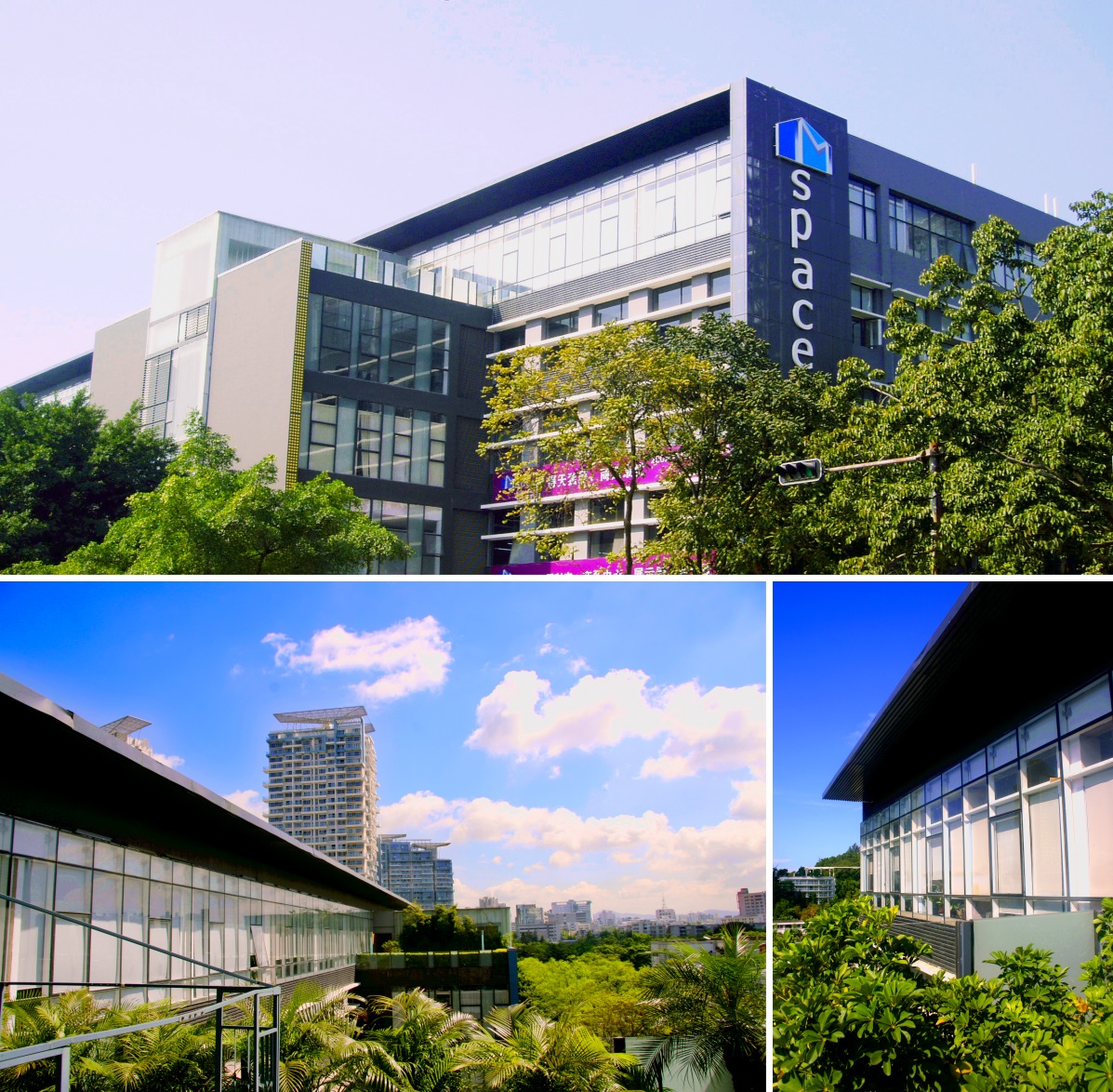 CBD Ecosystem
International Community
Shekou Sea World is truly a vast international community, with a large number of international elites, numerous high-end villas and apartments, international schools, international hospitals, and well-established surrounding supporting infrastructure.
The Super-high Standard Business Cluster of the Greater Bay Area + Shekou Sea World
Based in the Greater Bay Area, enjoying favorable policies, together with 246,100㎡ commercial space in Shekou Sea World, they share urban benchmarking Phase 2 of World Financial Center, Prince Plaza and China Merchants Tower in the coastal CBD.

Regional Supports
Regional Environment – Office Park near the Metro Line Overlooking the Mountain and Sea
Located at No. 1019, Nanhai Boulevard, Shekou, Shenzhen, Nanshan Medical Device Industrial Park is backed by Nanshan Park, with Shekou Harbor in the front, overlooking the sea by the mountains, with a beautiful and charming environment.
Traffic Lines – Convenient Accessibility with Double Metro Lines
The Park is 50 meters away from Metro Line 2 Shekou Sea World Metro Station Exit C/Bus Station. Metro Line 12 will enter the Park in the near future, and the new additional Exit G will directly connect to the Park, allowing for more convenient traffic.

Shopping Consumption – Shekou Sea World for the World
Shekou Sea World, with its European-style sunken plaza design, is a humanized social, leisure, and entertainment venue with cuisines and cultures from all over the world. Gateway One Shopping Mall, a representative regional commercial project of China Merchants in Shekou Area, is a commercial complex integrating boutique stores, themed cuisine, leisure and entertainment services, with a total floor area of approximately 100,000m².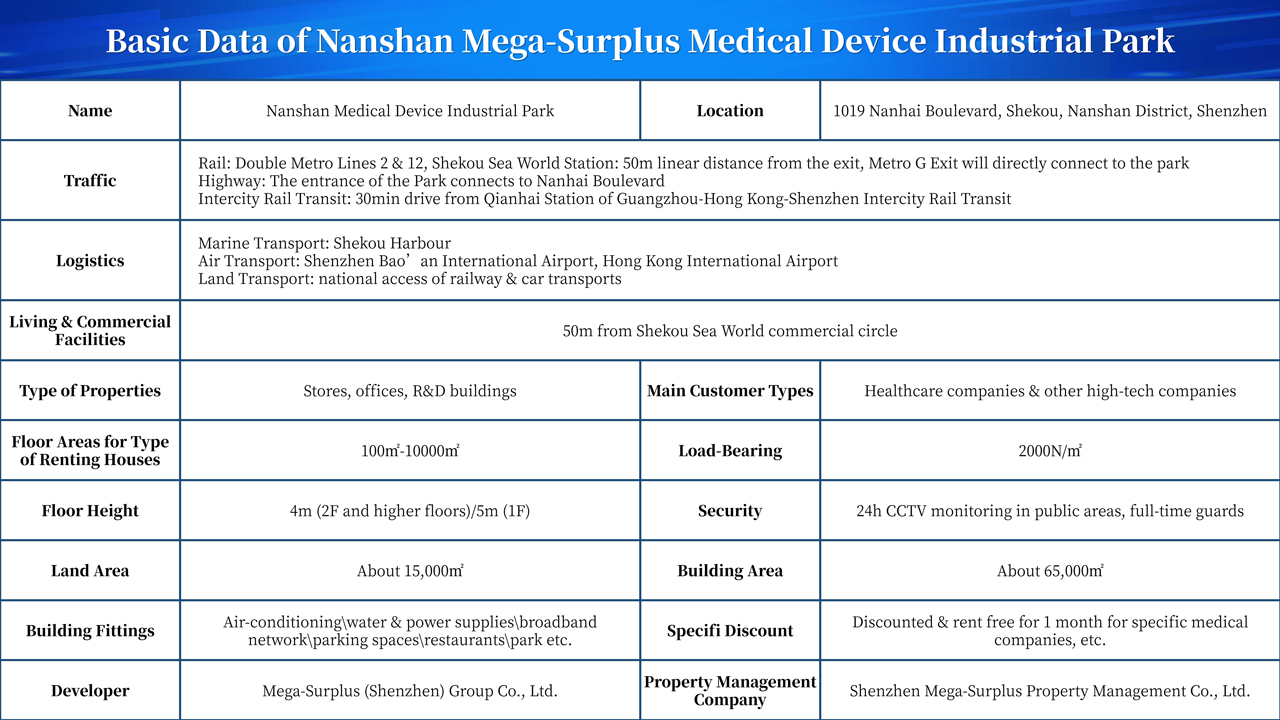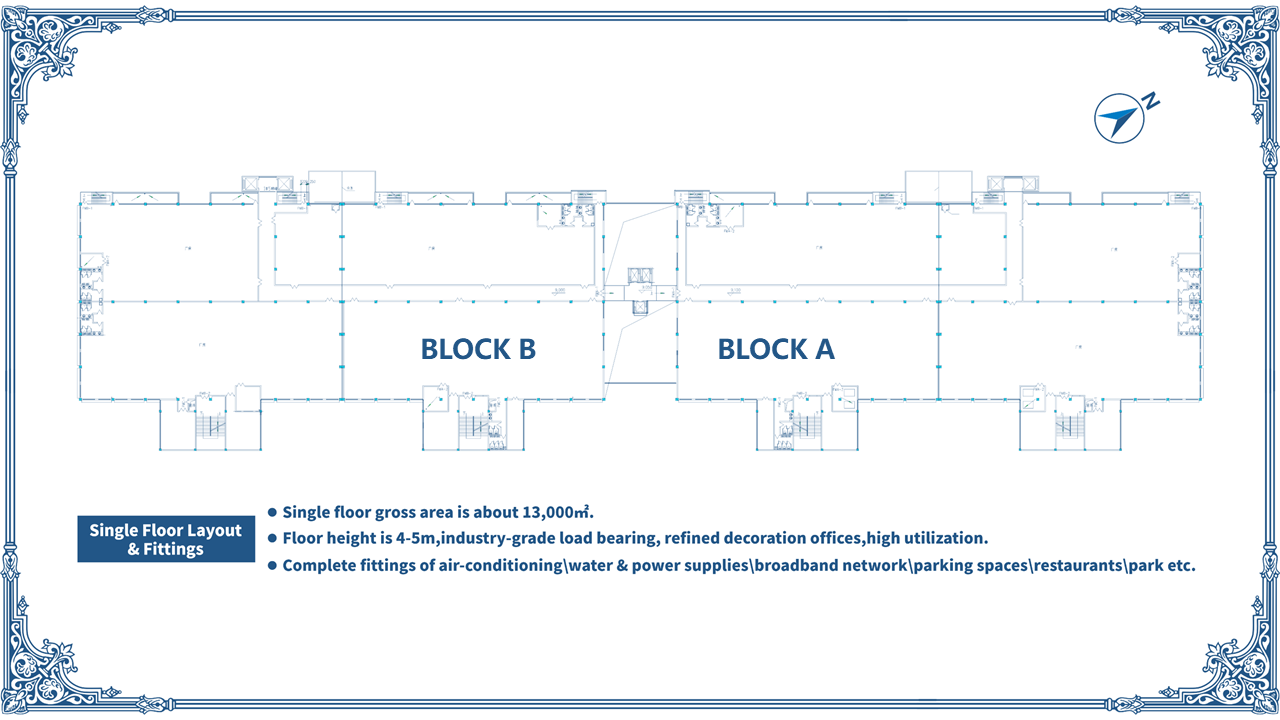 Park Services – Particular Value-added Service Modules
1 CRO & CDMO Services for the Industry of Medical Devices
Provide full lifecycle management and support for medical device products. Assist enterprises to establish compliant management system, provide system counseling, clinical testing and product registration services at home and abroad.

2 Investment & Financing-based Financial Services
Dock with venture capital and banking financial institutions, assist enterprises to obtain discount and other low-interest government loans, assist enterprises to optimize BP for rapid financing development.

3 Marketing Diagnosis & Market Promotion Services
Assist enterprises to analyze and research the market, develop targeted product positioning and development strategy. Reduce the overall cost of market promotion and efficiently promote to the overseas market through joint exhibition by establishing a link between settled enterprises and industry associations.

4 Industrial Information & Resources Docking Services
Assist in technical cooperation with domestic and foreign universities, research institutes and top-rated industrial design resources, and tackle technical problems.

5 IP & Policy Declaration Services
Free intellectual property lectures, registration and application and customized innovation enterprise management training, assist enterprises in the application of relevant policies such as subsidies for scientific and technological innovation research and development, market promotion subsidies, etc.

6HR, Finance, Taxation & Legal Consulting Services
Provide professional training and consulting services for the daily operation of companies related to human resources, finance, taxation, legal affairs and other issues.
Investment Promotion Hotline: 0755-26688707